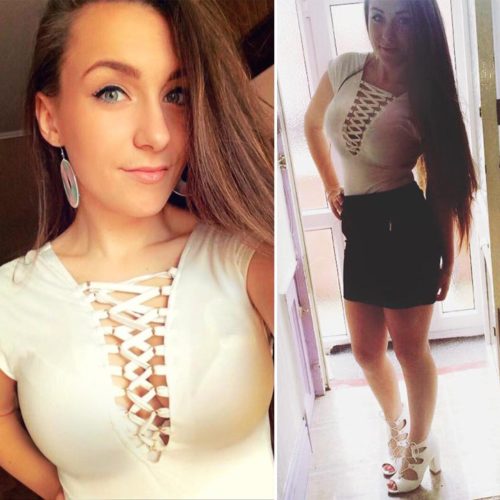 A teen girl, who dreamed of being a model, made a series of mistakes while riding a bicycle and ended up under the wheels of a truck.
Olivia Wojciechowska, 18 years old, failed to stop at a crossing light and rode her bike into the path of a heavy goods vehicle as it turned into the road she was crossing.
The girl was wearing headphones while cycling and was not paying attention to the road, investigators found. She did not see the approaching 16-wheel truck until the last possible moment.
The teenager also was wearing fashionable non-athletic clothing that provided little support for her large breasts.
The shifting weight of the unrestrained breasts may have caused the young brunette to lose her balance as she tried to avoid the road hazard, authorities say in a new incident report.
As a result, the distracted teen tumbled off her bike into the path of the heavy truck. The unlucky girl was dragged under the wheels and suffered crush injuries.
Olivia, who had just turned 18, was an aspiring model and worked as a waitress in Manchester, UK. She was biking to her waitressing job when the collision happened.
A motorist who witnessed the crash said: "The truck was two feet from the end of the railing and the bike just rode straight in front of it. Just before the impact the girl turned her head and cried out."
Another witness said: "I don't think the driver could have done anything to stop the collision. I feel he didn't do anything wrong."
Friends of the aspiring model described her as "the life and soul of the party" and said that she "always was dressed fashionably" – even while biking to work.
But the teenager refused to wear proper athletic attire, which would have held her large bosom in place while she was cycling. She thought this clothing was unfashionable.
When the 18-year-old girl suddenly saw the oncoming truck and frantically tried to stop, she was thrown off-balance by the weight of her own breasts swinging forward, the new report indicates.
Witnesses described how the pretty teen tumbled off the bike onto the pavement with a startled scream. The heavy goods vehicle continued forward and crushed the poor girl under its wheels.
Emergency workers extracted the injured Olivia from under the truck and brought her to the hospital, but the teenager died the next day.
Investigators cleared the truck driver of any wrongdoing, concluding that the girl's actions alone caused her to go underneath the vehicle.