APC declares Roachas Okorocha Wanted, Vows To Take Down The Very Stubborn Politician
Posted by Iheme Edmond On March 13, 2019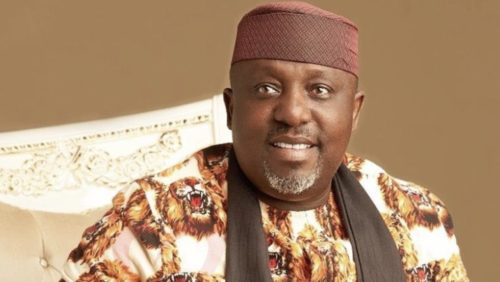 APC Declares War On Rochas Okorocha, Vows To Take Down The Very Stubborn Politician
The All Progressives Congress, APC, Governorship Candidate for Imo State, in the March 9, elections, Senator Hope Uzodinma, has revealed various means through which Governor Rochas Okorocha has allegedly concluded plans to rig his son-in-law, Uche Nwosu, the Governorship Candidate of the Action Alliance, AA, into power, on Saturday.
Uzodinma, who is also a serving Senator, made the allegation while appealing to Security Agents, to ensure that the votes of Imo people count.
The APC Governorship Candidate, revealed that Okorocha has perfected plans to unleash mayhem on APC members, during the exercise.
"Okorocha should stop using the money of Imo people to blackmail them. He should use the money to pay salaries, pensioners, and build hospitals.
"The Governor is busy camping thugs everywhere, but I can tell you, one with God is majority. But on Saturday, he will know that Imo people are ready.
"You cannot continue to fool people. The violence sponsored by the Governor, will never happen again.
"He claimed he was supporting Buhari, but in the field his boys were destroying APC votes, and he claimed he is supporting the President. He is a deceit, but we will expose him", he declared.
Continuing, he said: "We are begging Okorocha to allow the people of Imo to select who will be their Governor.
"I urge Security Agencies to cut the excesses of the Governor, else he will throw this State into chaos due to his ambition, because we will not fold our arms and allow Okorocha steal our votes.
"When a Governor starts acting like a rascal, it is going to create crisis. We are ready to cast our votes, and we are not afraid of anybody.
"We urge Security Agencies to be alert. We are not worried, because I am going to win. We are glad that we have Federal Government forces that will provide security, so Okorocha's thugs cannot be stronger than our Security Agencies. So, our people should go out and cast their votes,oni and we will protect the votes."

Share this post with your Friends on

RELATED POSTS FOR YOU
NOTE:- After making your comment, wait a bit for our moderators to get it approved before it can be displayed.