Atiku May Face Life in Prison After 2019 General Elections (See Reason)
Posted by Iheme Edmond On February 23, 2019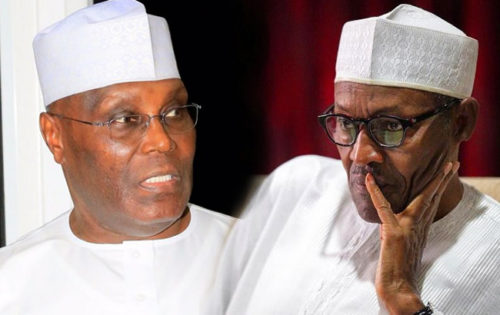 The presidential candidate of the Peoples Democratic Party may face life in prison following his recent comment advising the Nigerian army to disobey President Muhammadu Buhari.
This revelation is contained in a opinion article written by Bunmi Awoyemi, Ph.D.
Awoyemi argued that Atiku's advice to the army is not only unconstitutional but could incite mutiny.
Read below:
"By telling the Armed Forces to disobey Muhammadu Buhari's orders as President and Commander-in-Chief of the Armed Forces, Atiku committed the offence of inciting to mutiny and may face charges after the election, especially considering the fact that he was the Vice President of Nigeria from 1999 to 2007. He ought to know the gravity and possible consequences of his inciting utterances. Even if he pleads ignorance, ignorance is not an excuse in law.

"In the context of Criminal Law, mutiny refers to an insurrection of soldiers or crew members against the authority of their commanders. The offence is similar to the crime of Sedition, which is a revolt or an incitement to revolt against established authority, punishable by both state and federal laws." See www.thelawdictionary.org

To incite means "to arouse; stir up; instigate; set in motion; as, to "incite" a riot. Also, generally, in criminal law to instigate, persuade, or move another to commit a crime; in this sense nearly synonymous with"abet." See www.thelawdictionary.org
Chapter 6 of The Criminal Code Act, Cap C38 LFN 2004, particularly section 44 dealing with incitement to mutiny and bordering on public order was violated by Atiku.

Section 44 provides:
"Any person who advisedly attempts to effect any of the following purposes, that is to say-
(a) to seduce any person serving in any of the armed forces of Nigeria or any member of the police force from his duty and allegiance; or
(b) to incite any such persons to commit an act of mutiny or any traitorous or mutinous act; or
(c) to incite any such persons to make or endeavour to make a mutinous assembly; is guilty of a felony, and is liable to imprisonment for life."
Atiku can be tried under the Penal Code (Northern States) Federal Provisions Act, CAP. P3 L.F.N. 2004, which applies in the Northern states, it has an identical provision as section 44 of the Criminal Code Act.

Section 413 of the Penal Code provides:
"Inciting to mutiny
Whoever-
(a) seduces any person serving in the armed forces or the police force from his duty of allegiance to the State;
(b) incites any such person to commit an act of mutiny,
shall be punished with imprisonment for life."

If Atiku is prosecuted and convicted under either statue, he faces a severe maximum punishment of life in prison.

Share this post with your Friends on

RELATED POSTS FOR YOU
NOTE:- After making your comment, wait a bit for our moderators to get it approved before it can be displayed.