He took to his Instagram page to share the picture and how he loved wearing the skirt.
He wrote,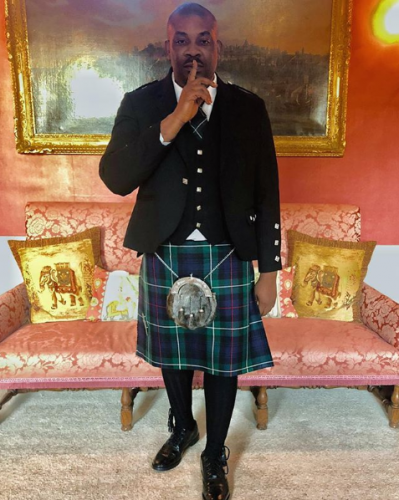 When you wear this lovely kilts in Scotland???????, the gbola is Finally free.?. Shhhh don't tell anyone o. Having an amazing time as always on this trip too.#LoveScotch #johnniewalker #KeepWalking
Don Jazzy was recently in UK for Tiwa Savages's first headlined sold-out concert, the Savage tour.
Jazzy has also been accused by Kelly Handsome of locking him up for doing a cover of a song.
The Maga Don Pay singer shared the story on his Instagram page while celebrating a soldier friend's birthday.
He further stated that he didn't have the intention to reveal the information but all he said was true.
He said, "It was when Don Jazzy arrested me that I met the soldier I mentioned in my post. I wanted to wish him a happy birthday and I remembered the event. I guess people were surprised because they felt Don Jazzy could not do such. Why would you lock up your brother for doing a cover of a song. The track was titled, I'm Feeling Good, by 2baba featuring D'banj, while Don Jazzy produced it. If he is proud of what he did, he should respond."
Hansome also stated that Charly Boy could testify to what he was saying, as he was one of the people who helped him. He said, "I signed an undertaken and they published it online with my signature. They claimed I was bailed with N500, 000 but that's untrue. I didn't put out the song; it was leaked online. They even told the police to put a laptop on my hands so that people would think I was a yahoo boy (Internet fraudster)."
According to him, the last thing he would do is to initiate peace talks with Don Jazzy since he was the one who had wronged him.
Kelly also insisted that he had never been close to Don Jazzy and knew only little about him.