Growing Your Fan Base: Check Various Ways You Can Promote Your Music Online
Posted by Iheme Edmond On March 6, 2019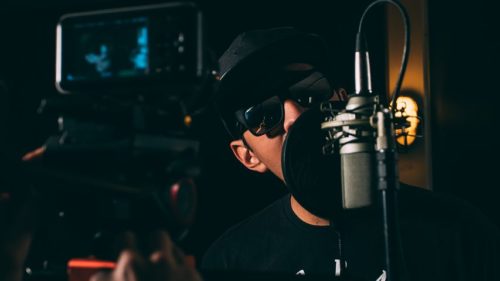 Getting your music out there is a lot easier than it was back in the day. Learn 7 ways to promote music online and gain a larger fan base.
If you've progressed beyond strumming in your bedroom, then you probably want people to hear your work as a musician.
Digital music accounted for over half of all U.S. music purchases in 2017.
That goes to show how crowded the online space is, with many independent musicians hoping to use the internet to build a loyal following while record labels occupy the top slots. To stand out in 2019, a musician needs a coordinated way of promoting their music.
Here are seven ways to promote music online and grow your fanbase.
1. Spin Your Web Presence
Telling anyone they need a website in 2019 almost feels redundant, but that's a promotional opportunity that many smaller creators and even businesses still leave on the table.
Having a site provides a huge boost for your ability to connect with an audience. If nothing else, it creates a hub for your activity online, which makes it easier for fans to find you. It can also build a sense of your brand's identity, demonstrating you're a serious musician who means business.
Think of your site as the hub of the wheel around which all your other promo tactics orbit. It gives you a solid foundation for the rest of your promotional strategies.
2. Scope Out SoundCloud
SoundCloud is one of the biggest hubs for music content online and with good reason. It provides an excellent way for even penniless musicians to host and promote their music to an audience who are there specifically to find new sounds.
There's a knack to using SoundCloud for best results, which could form its own article. But the gist is much the same as any platform: use tags, attractive titles, and CTAs to make the most out of your SoundCloud presence.
There are many marketing companies that work with SoundCloud artists, so reaching out to one of these could also help to generate the buzz you're looking for.
3. Leverage YouTube
There's no denying that content creators can face an uphill struggle on YouTube. It's not the content-hungry platform it once was, with most views now going to colossal established names. On top of that, YouTube's byzantine copyright control can be hard for certain artists to navigate.
But that's not to say it's worthless. YouTube has helped many musicians achieve an established fanbase.
The trick is to not make YouTube the core of what you do. Use it as a satellite arm. It's there to catch new fans and update those who follow you.
You can also host vlogs on YouTube to help your fans connect with you on a more personal level. This is a great way to generate hype for future projects. By doing so, you can create a primed audience for when your next track drops.
4. Face Facts
Facebook can seem like an indispensable part of our social lives these days, but it can also be an essential tool for creators.
Using Facebook business pages, you can create another center for your promotional activities. Facebook is a fantastic platform for sharing, so posting shareable content like music videos will help you promote through your social circle — and beyond.
You can also include a CTA on your Facebook page to link visitors to where they can buy your music. If you choose to, you can also promote your posts through paid ads, which can increase the impressions you receive on your page.
With Facebook, you can share almost any content you generate elsewhere. Think of it as a booster for everything from news posts to YouTube vlogs to new SoundCloud tracks.
5. Creator Collaboration
As a little fish swimming in the deep waters of the internet, you're invisible among the sharks and the whales. This is why fish form schools in real life — to promote their music.
The metaphor may be questionable, but there's no denying the power of creators working together. They have nothing to lose and everything to gain. By teaming up with other small creators, you can boost everyone's signal, generate positive buzz, and gain a ready-made circle of new fans.
Take part in collaboration projects, appear in videos for other YouTube channels, and give shout-outs on your page. As a musician, you need to make some noise, and collaboration is one of the best ways to do it.
6. Patreon of the Arts
Crowdfunding site Patreon likes to emphasize that there's never been a better time in history to be an independent creator. They're not wrong.
Your Patreon can be many things: a hub, a support network, and a way to establish a two-way connection to fans. You can use Patreon to reward your fans' loyalty and passion, which can reinforce your personality as a musician.
The ability to earn money even while you're building your brand is a huge turnaround for musicians, who traditionally make no money until they (if they ever do) make all of the money.
7. Reduce, Reuse, Recycle
This might all sound exhausting. How will you have time for your music when you're doing this much promotion?
The trick is to work smart, not hard. Modern marketing gurus know the value of repurposing content. For instance, let's say you've made a vlog with a message to your fans and published it on YouTube. You can embed that on your site, as well.
But what about the fans that won't watch your video? That's where you can use audio transcription to also turn that vlog into a blog or Facebook post. You double the exposure using only one piece of content.
With cross-posting and smart repurposing of content, you can disperse your marketing through multiple channels without having to compose unique content for each.
That gives you more time to focus on your music while still tapping into a larger fanbase.
Promote Music the Right Way
These tips should help you promote music the right way and reach out to new fans. Reaching a critical mass of fans could be all it takes to snowball your career into stardom.
Looking for more ways to promote your music? See how you can promote with us here.

Share this post with your Friends on

RELATED POSTS FOR YOU
NOTE:- After making your comment, wait a bit for our moderators to get it approved before it can be displayed.