Nigerian Couple Wear A Money Garland On Their Wedding Day
Posted by Iheme Edmond On May 4, 2018
This Nigerian Couple are currently trending online after they rocked a garland made of Real Dollars and Naira Notes on their wedding day
See full picture below;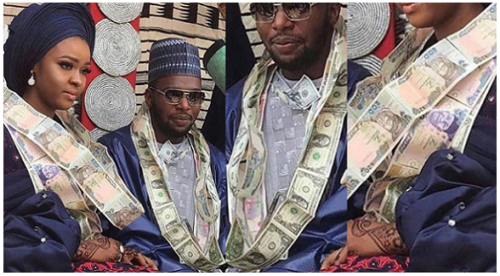 Everyday something weird and strange pops up on the internet. And today is no different.
This Nigerian couple's photo is making the rounds on social media thanks to the money around their necks.
While some say it is a ridiculous show of wealth, others believe there is a reason behind it, probably symbolizes their marriage would attract wealth.
What do you think?
see some reactions below;
malachi_taiwoY d man wear dollars and wife #500 and #200 notes??? ????
ebonique_Certain things are really not necessary to the public.Trying too hard to prove what exactly? Who am I to judge anyways?….I pray the have a blissful marriage. ???
zohan101This man obviously forced this woman to put the money around her neck..it's clear from her expression, she never liked the idea.i bet what was going through her mind was " I can't believe I am doing this"
abis_olaaThey dont have respect for nigeria currency ….even if it has lost value …..the change we want to see is suppose to start from us na…all people will say is nigeria is bad .mtchewewwwwwww…..can you see a U.k citizen do this shit to their currency.. Illitracy and poverty is a factor sha

Share this post with your Friends on

RELATED POSTS FOR YOU
NOTE:- After making your comment, wait a bit for our moderators to get it approved before it can be displayed.