Premature Ejaculation is Not a Disease: Here's Why You Can't Last Long in Bed
Posted by Iheme Edmond On January 12, 2019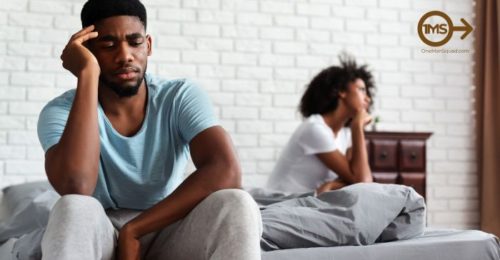 According to the NHS, Premature Ejaculation (PE) is the commonest male sexual dysfunction. That is, when it comes to male sexual health, premature ejaculation is man's number one problem.
Since it's classified under "men's health," does that make premature ejaculation a disease?
Let's answer this by first defining what exactly premature ejaculation is…
What is Premature Ejaculation (PE)?
Premature ejaculation is simply when you ejaculate faster than you and your partner would prefer. (Medically, it's when you orgasm or ejaculate before or immediately after penetration.)
This therefore makes it almost impractical to peg a timeframe to PE.
Bottom line: no matter how short or long your ejaculation takes, as long as it happens before the time you and your partner would desire, then it falls under premature ejaculation.
Considering this definition, would it be reasonable to call premature ejaculation a disease?
If you go a good ten minutes at a stretch but your partner wants more, would that ejaculation still be regarded as a medical condition or disease?
I bet your answer is NO!
Why exactly you can't last long in bed
Fact is, even though there are some extreme medical conditions that can prevent a man from lasting long in bed (like diabetes and prostatitis), most cases of premature ejaculation are caused by psychological factors.
You are bound ejaculate prematurely if:
● Your earliest sexual experiences involved ejaculating quickly to not get caught (whether masturbation or adventurous quickies), your mind and body can become permanently conditioned that way.
● You are sexually inexperienced.
● You lack confidence in your body (maybe the size of your penis) and have a low self- esteem.
● You just got into a new relationship. It's sometimes normal to not be able to "perform well" until after some time of getting used to the new body.
● You get overly excited during sex or the stimulation feels too much than you can handle
● You are experiencing emotional issues in your relationship. Such issues can affect sex between you and your partner.
● You are anxious about having sex.
● You feel guilty about sex itself (maybe due to your religious background) or about whom you're having it with (perhaps cheating on a partner?)
● You feel inadequate; that she's "too much" for you and you can't possibly satisfy her.
● You are depressed and stressed, either physically or mentally — or both.
● You are worried that you will ejaculate prematurely. The more you're worried about lasting long, the nearer you move to ejaculating. So don't worry next time, be happy instead.
PE Solution?
Now that you know that premature ejaculation is most likely just in your head, all you have to do is give yourself a mental shift.
Go through the list of what causes PE and identify which one applies to you. Then make conscious effort to work on it. If you can't seem to solve it on your own, simply seek help. Nothing to be ashamed of!
You can work together with your partner to overcome it, and if that still doesn't work (or isn't possible), go seek help from a therapist or even a medical doctor.
Apart from being sure to get help, visiting a doctor would also help to reveal if the premature ejaculation is a symptom of something actually worse.
Meanwhile, I wouldn't leave you here without any help
3 Simple Tricks You Can Use to Last Longer Even Tonight!
I'd like to give/teach you three (3) simple tricks you can use to start lasting long in bed immediately, even if you have sex tonight — notwithstanding what might be causing you to ejaculate prematurely.
Once you start applying ANY of these insanely simple tricks to your sex life, you'll be able to last longer than you currently do.
No drugs or herbs, no tools, nothing…and you're guaranteed to beat premature ejaculation immediately…and satisfy your partner more than before!
I've explained each of these 3 tricks in details (even with pictures) in a guide that you can download for FREE immediately.
Simply CLICK HERE to download the FREE guide now.
Read it fast (takes just about 3 minutes) and if you can, test one of the tricks immediately you drop the guide and see if you wouldn't last longer than before!
Download it here for free immediately, while you still have the opportunity. (Or paste this link into your browser: https://onemansquad.com/last-longer-tricks/)
Thank me later!

Share this post with your Friends on

RELATED POSTS FOR YOU
NOTE:- After making your comment, wait a bit for our moderators to get it approved before it can be displayed.