Robbers Storm Amala Joint In Lagos To Rob Women Of Their Pants
Posted by Iheme Edmond On January 26, 2019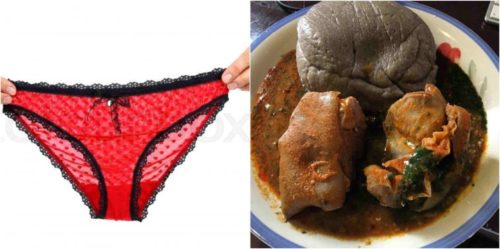 Nigerian lady has alleged that some Robbers storm Amala Joint in Lagos to attack women and rob them of their panties.
According to the lady, the robbers asked the ones wearing pants to take them off and those that wear not having pants on them, were asked to put on the ones the suspected ritualists came with.
This is just similar to the Ijebu Ode, Ogun State earlier this month, incident where robbers were alleged to have stormed a restaurant to rob women of their pants.
She wrote:
Robbers came to Amala joint in my sisters area this night " mainland " brought out guns and collected their pants They poured new pants on the table and told people that are not wearing to pick pants and wear Exactly the same way they did in ijebu !!!
I'm not joking ! I just don't want to mention the name of the buka ,it happened in Idimu this night !

Share this post with your Friends on

RELATED POSTS FOR YOU
NOTE:- After making your comment, wait a bit for our moderators to get it approved before it can be displayed.