Victoria Kimani Tenders Apology To Tiwa Savage
Posted by Iheme Edmond On April 6, 2019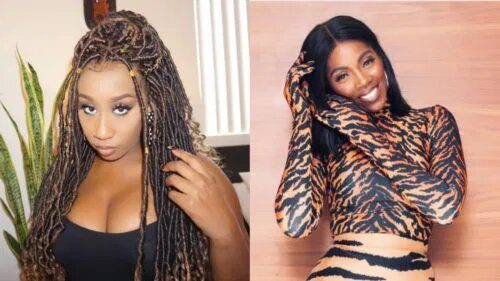 Kenyan singer; Victoria Kimani has come out to apologise to Tiwa Savage only for slut shaming her and age shaming her.
The singer who dropped a bombshell in her cover of Kizz Daniel's trending song; "Fvck You" by throwing different allegations the way of the Mavin singer, which one of them is the fact that she sleeps around in order to get favours has apologised for age shaming and slut shaming her.
We guess her reason for apologising could be as a result of Chocolate City rapper; Pryse's Twitter post yesterday saying she supports the fact that she called out Tiwa because it is the exact truth, but that she only does not support the way Kimani has chosen to do it. She said Victoria Kimani shouldn't have slut shamed her or age shame her as women should not do that to members of their sex.
Possibly seeing the tweet, Victoria Kimani took to Twitter to tender an apology. She said she feels ashamed for slut shaming Tiwa and she apologises but she said that is the only thing she feels regret for and that for other things she said, she will never apologise. "She is right, i apologise for slut shaming and age shaming. Shame on me! that was very wrong. But the other stuff, i can never apologise," she wrote.

Share this post with your Friends on

RELATED POSTS FOR YOU
NOTE:- After making your comment, wait a bit for our moderators to get it approved before it can be displayed.