Virginity Doesn't Guarantee Heaven – Daddy Freeze Says After Cute Virgin Girl Bragged
Posted by Iheme Edmond On March 5, 2019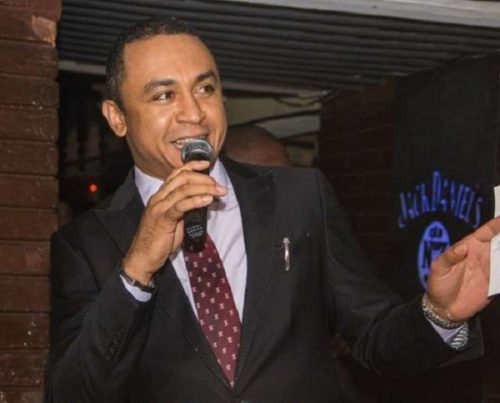 "Virginity does not guarantee heaven" Freeze says after virgin took to Twitter to reveal why she brags about her virginity
OAP Freeze has reacted after a lady took to Instagram to reveal why she boasts about her virginity.
Talking about virginity, Chinenye said:
I brag with my virginity not because it's a standard for women before marriage, but because it's a standard as a citizen of heaven for unmarried people.
"But fornication, and all uncleanness, or covetousness, let it not be once named among you, as becometh saints;"
??Ephesians? ?5:3? ?KJV??
Let no one deceive you that it's just a standard for women and then you as a man decide to live in filthiness. "Neither filthiness, nor foolish talking, nor jesting, which are not convenient: but rather giving of thanks."
??Ephesians? ?5:4? ?KJV??
"Let no man deceive you with vain words: for because of these things cometh the wrath of God upon the children of disobedience."
Reacting to her post, Freeze said:
Virginity does NOT GUARANTEE HEAVEN, don't be fooled!
Christ called friends of the world 'adulterers'. 99% of your pastors are friends of the world despite their 'supposed' sexual chastity.?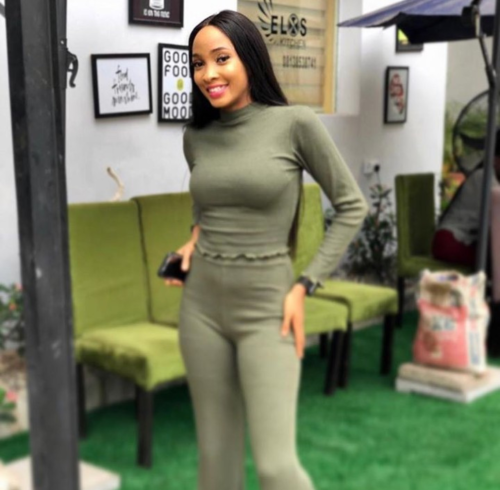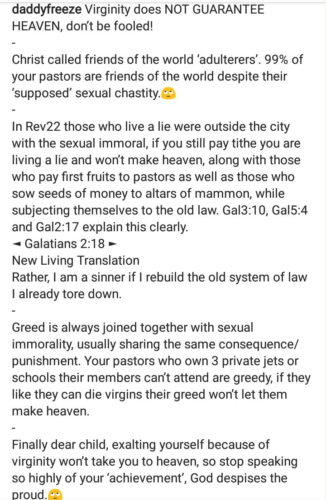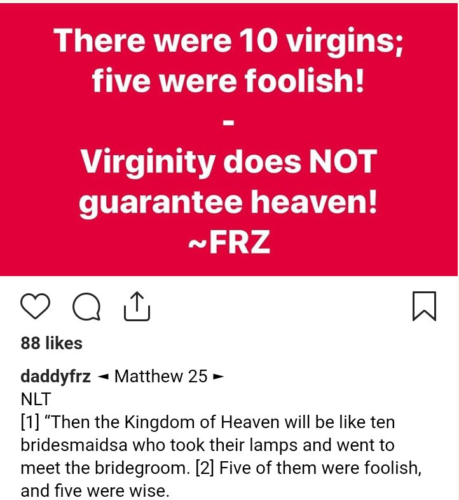 Share this post with your Friends on

RELATED POSTS FOR YOU
NOTE:- After making your comment, wait a bit for our moderators to get it approved before it can be displayed.