10 Things You Don't Know About Doggy-style S£X
Posted by Iheme Edmond On April 8, 2019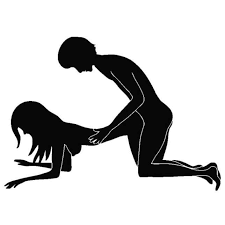 1.) Americans are searching for "doggy style" like whoa.
According to a study from AskMen, America Googled doggy-style more than any other s£x position. It could be because it's incredibly popular, or maybe just because some people find it logistically challenging and need help. Not our place to judge.
2.) It's the second most dangerous position.
Woman-on-top edges it out, but doggy-style is responsible for over a quarter of penile fractures. According to a study done at the University of Campinas in Brazil, 28 percent of men admitted to the ER with a penile fracture got it from doggy-style (for what it's worth, woman-on-top took credit for 50 percent). But don't worry, the odds of "breaking" a
joystick during s£x are still incredibly low, so don't let this scare you off.
3.) It's part of a bigger family of "rear entry" s£x positions.
Doggy style isn't the only way to have s£x from behind; doggy style is part of the "rear entry" group of s£x positions that range from downward dog (yes, like the yoga position) and froggy to reverse cowgirl.
4.) It's really, really old.
You think Snoop Dogg was the first person to reference the s£x position in 1992? No way. Ancient Greeks and Romans have artwork and literature referencing the s£x position; Roman philosopher Lucretius even recommended it for couples trying to conceive (please note that this has no actual scientific basis).
5.) Lots of songs reference the sex position. Lots.
According to Genius, there are over 1,600 songs that address the topic, at least in passing. "P.I.M.P." by 50 cent, "The Bad Touch" by The Bloodhound Gang, and "Back That Thing Up" by Justin Moore (which is a country song about doggy-style sex in a barn, and it's just as good as it sounds).
6.) if your partner finds doggy style s£x to be painful, you have options.
Because this position allows for super-deep penetration, some women may find that you're hitting up against their cervix. Try slowing down the rate of penetration, and have your partner play with the angle of her hips. She can try going down on her forearms or up on her palms to see if the depth makes a difference in her comfort level.
7.) It's called "doggy style," but plenty of other animals mate that way…
Including horses, camels, giraffes, and elephants.
8.) Meanwhile, tons of animals don't.
Whales, dolphins, and spiders forsake the position. and primates like chimpanzees don't use it exclusively.
9.) It's not just for vaginal s£x.
If you and your partner are both into it, you can engage in anal s£x and cunnilingus while you're back there. "Doggy style" can refer to any of those things, not just s£x from behind.
10.) It's a favorite for a lot of guys.
According to a Women's Health poll, men list it as their favorite s£x position, trumping old standbys like missionary.

Share this post with your Friends on

RELATED POSTS FOR YOU
NOTE:- After making your comment, wait a bit for our moderators to get it approved before it can be displayed.