Adekunle Gold Dedicates His New Song 'Ire' To His Late Sister (Photo)
Posted by Iheme Edmond On February 27, 2018
Nigerian award winning musician Adekunle Gold recently released a song title 'Ire' and dedicated the song to Busayo
Most Nigerians has been asking who Busayo is and sharing a throwback photo, the musician has taken to his instagram account to reveal she is his dead sister and he is dedicating the song to her because she was one of his favorite people.
He wrote:
"For Busayo"
Who is Busayo?
I've been getting this question a lot. Busayo is my sister. We lost her in 2011 to a Heart Complication. I'm fiercely protective of my family but I didn't think I could skip out one of my favorite memories or people in life.
Busayo was symbolically represented by the little girl skipping around me in the video as that is who she was in real life.
She never left my side, matter of fact, she was my younger twin. We looked alike and she could sing for the whole of AFRICA.
In my heart, I believe I sing for the both of us; It was only right that I dedicated the video to her memory…
#decodingire #ire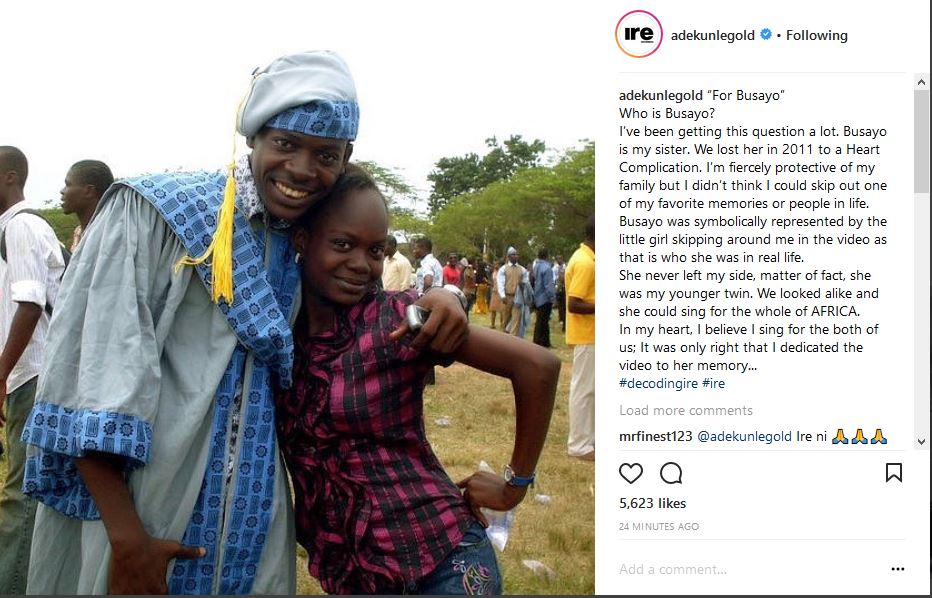 Share this post with your Friends on

RELATED POSTS FOR YOU
NOTE:- After making your comment, wait a bit for our moderators to get it approved before it can be displayed.