An Anonymous User Claims This Is Linda Ikeji's Prospective Baby Daddy (Photos)
Posted by Iheme Edmond On May 25, 2018
As You know Nairalanders can posts lots of funny and crazy stuffs but a post made by someone here is currently going viral, Ever since the blogger broke her pregnancy news on the internet we've all had sleepless nights trying to figure out who her hubby is, some of my friends too have been calling me if i have any info, including fellow bloggers, i replied that i dont know, But looks like we have gotten a sneak peak, thats if the post has any truth to go by..
Now According to the person Linda Ikeji's babydaddy is Sholaye Jeremi, said to be a close associate to Minister of State for Petroleum, Ibe Kachikwu. From Sapele, Delta state, he swore that the news is 100% true, He also said that Jeremi stays in Ikoyi…
I tried checking the guy's profile and its seems he truly works with the Minister..
The poster said:
Linda Ikeji is pregnant for Sholaye Jeremi, a close associate to Minister of State for Petroleum, Ibe Kachikwu. He is from Sapele, Delta state. 100% confirmed. The funny thing is there was no engagement as Shola will not settle down although he is 40 plus. Jeremi also stays in Ikoyi. Very credible, although Linda is trying to manage the situation but this information is 100 percent credible. You can do your findings as well, but thats the guy."

You can confirm below!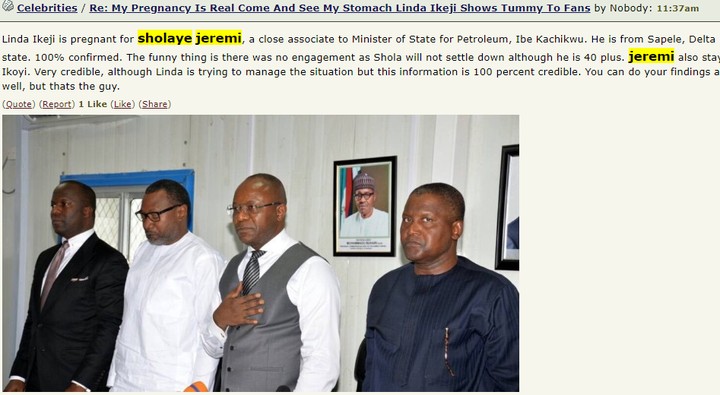 Share this post with your Friends on

RELATED POSTS FOR YOU
NOTE:- After making your comment, wait a bit for our moderators to get it approved before it can be displayed.