Bishop Oyedepo and Apostle Johnson Suleman releases 2018 Prophecies
Posted by Iheme Edmond On January 2, 2018
Bishop David Oyedepo, the founder of Living Faith Church, has prophesied about the massive transfer of wealth in 2018.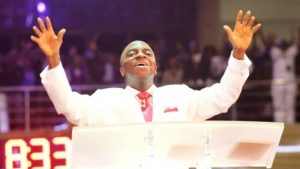 According to the popular man of God, a lot of amazing and strange things will happen this year.
Bishop Oyedepo, whose church is popularly known as Winners Chapel, said: "Strange things will be the order of the day in the year 2018. There shall be a massive wealth transfer.
"Double restoration of all that we have lost. Instant release from all spells and generational curses. Instant judgment for all adversaries.
"All of your children shall be New Dawn children Your finances shall be New Dawn finances. Your spiritual life shall be New Dawn spiritual life."
"Everyone travelling to anywhere, everybody arrives safely. Throughout this New Dawn year beginning from now, no one shall be a victim of a road accident.
"Every of your desire will be delivered without struggles. Everyone set for marriage, as the Lord liveth, whose I am and whom I serve, your year of settlement has come.
"Every one that returned any stolen item, your sins are forgiven. None of you shall carry a curse. As for the year 2018, it's your year at last."
"It shall be your year of all-around rest — rest at home, rest at work, rest in your business, rest in your profession, rest in your career, rest in your health, rest in your spiritual life.
"The year 2018 shall be your most fruitful year till date. It shall be to you a year of all-round fruitfulness We have 98 percent growth in a new birth in this Shiloh over last Shiloh. That's a signal that the year 2018 shall be a super fruitful year for you.
"Go in peace; see you at Shiloh 2018 in your multiplied state. You shall be here in your multiplied state; you shall be here in your perfected state. There shall be no evil occurrence in your life."
He shared this prophecy while delivering his New Year message titled, "Heralding the New Dawn of the Church."
Apostle Johnson Suleman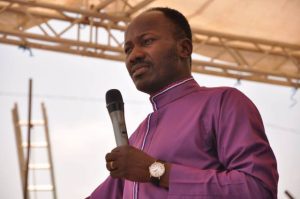 The Senior Pastor of the Omega Fire Ministries Worldwide (OFM) has not been left out of the 2018 revelations.
He has released 50 prophecies concerning the new year. They are:
1. Economy to get better in Nigeria in 2018
2. Year of serial bombings in Nigeria
3. Imo State Governor to make governorship a family affair
4. Donald Trumps health needs attention
5. A new strategy of killing perceived political enemies in Nigeria will arise
6. Wildfire outbreak in an American state
7. Manhunt for Ekiti state Governor by the Federal Government of Nigeria
8. Government of Nigeria to disobey court orders
9. God says " Let Sambo Dasuki go"
10.President Buhari to be flown abroad on emergency
11. A former Nigerian military President laid to rest
12. Many bloggers to be arrested and jailed
13. Bola Tinubu to have public showdown with President Buhari
14. Robert Mugabe, former president of Zimbabwe, rest in peace
15. Political blackmail to be on the rise
16. I saw two great northern kings in open conflict
17. Church buildings collapse, tears, tears
18. EFCC boss to have major setback
19. Nollywood, new stars to take over
20. 2018 budget, Senate, and presidency lockjam
21. NAFDAC to pray against fire disaster
22. Senate President To Be harassed embarrassed. Many publications and threatened arrest.
23. DSS boss, to attend to his health
24. Fresh charges against Abubakar Atiku and friends to be embarrassed
25. I saw major bombings in Egypt
26. Attempt on the life of Chief Femi Fani Kayode's wife
27. South African Jacob Zuma to be humiliated
28. Atiku's men will betray him
29. U.K bombings, biggest in history
30. Channels TV in court crisis
31. America, Canada, Asia, to experience hurricanes.
32. Ibe Kachikwu to be removed and replaced
33. NTA to pray against losing a top boss
34. Shoprite Lagos to beef up securities, I see a major raid.
35. I see Fulani herdsmen entering Lagos and Rivers State massively
36. Oh America, I see war in 2018
37. Let's pray against train accident. I saw a train going out of the rail
38. I saw the naira gaining relevance
39. I see a new political party that will divide APC and PDP
40. 2019, power will not move from the North
41. I see serious politics against Osibanjo
42. Nigeria pray against air crash
43. I saw a young Nigerian musician experiencing major media attack sponsored by a fellow musician of the same genre
44. Kardashian family, topsy-they in 2018
45. I see some Nollywood stars permanently leaving Nigeria for better opportunities
46. 2018, the year of the Army. So much military presence and control
47. Good luck Jonathan should pray not to be bereaved
48. Nnamdi Kanu to be embarrassed both locally and internationally
49. God will give people good health and there will be cure for incurable diseases
50. I see a group rising in the North and asking for their own nation.

Share this post with your Friends on

RELATED POSTS FOR YOU
NOTE:- After making your comment, wait a bit for our moderators to get it approved before it can be displayed.