"Churchill was not Mr Ex, I only gave him the glory" – Tonto Dikeh
Posted by Iheme Edmond On April 3, 2019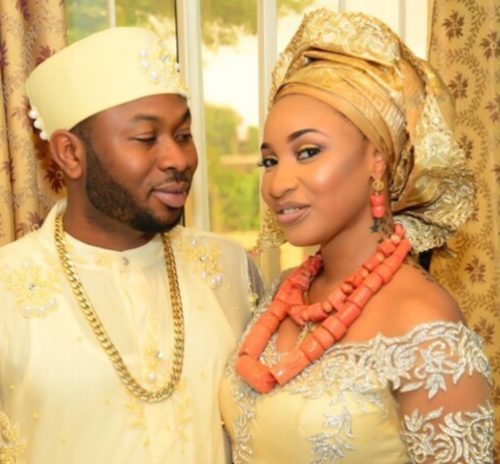 Controversial Nollywood actress and mother of one, Tonto Dikeh has revealed that her estranged husband, Churchill was not Mr X, the mysterious man who was showering her with expensive gifts before she got married.
The actress went on to describe him as an 'irresponsible ape' – this she did, as she responded to a viral blog post written by a certain blogger, Ogo Oluwa, who had described her as a bitter woman.
Ogo Oluwa had written,
1. Why is Tonto Dikeh so used to inconsequential Attention. I just saw her post on Instagram calling her Baby Father all sorts of names. She sounds like a very bitter person. You deny the Boy from his Father and tell the World he's not responsible.

2. How come someone who gives scholarships to other people's Children every year not be able to take care of his own child.

3. Is it logical that the same person who took you to court Cos you wouldn't allow him access to his son, not be able to take care of that same child. Common!!!

4. U changed the boy's name to ur family's name like he's some sort of bastard without a father. I could remember some years ago when the love still dey shack u when u posted a 22million SUV Churchill bought for u. Cos you're not together anymore, you're tarnishing his image

5, How about the 15 million naira worth of jewellery you were flaunting those days that he bought for you from Ghana. Now you tarnishing ur Child's father's name and calling him a fraudster. The boy will grow someday and will ask you questions you might regret asking.

6. U are too crazy about attention. Ur irrelevance is really frustrating you. You can't be these bitter Tonto. Calm down and respect your son. It is the respect u give to his Father that'll reflect on the boy.

7. U should always reevaluate your thoughts before you do anything. Calm down for a while so we can all rest and see the real things. Every opportunity u see, u want to tarnish ur Son's father's image. My dear, people are watching!!! You should realise that you're a mother!

8, You were angry Churchill bought a house for his mom in Lekki, that it was supposed to be you instead. You have mind push your mother-inlaw off the staircase before his son bought her a house worth 220million

9, You were the same person celebrating all the gifts he was showering you those days. Now you say he's these and that. We are tired Biko

10, We have never seen him say any bad things about you on social media, knowing fully well you're the mother of his child. Cut everyone the slack and be sensible for once.

11, You're advising people online to give their life to Christ and the next minute you're using all sorts of lecherous and vile language to address people online

12. I still remember a video you posted of your dad praising Churchill that he paid N1.5million as your dowry. Common, if the marriage didn't work; focus on other sane things and allow love flow in your son's heart. You're teaching the boy to hate his Father

13. How about the Presidential Rolex you were flaunting all over social media you claimed was worth 15million naira he bought for u. Kai!!! Live your life off social media and stop lying regularly to gain attention

14. All his philanthropic works have you been the one funding it? See the issues you had with the manager of your foundation, threatening to kill him and his family

15, The other day I heard u say you were the rich one and he was broke, show us proof on how you've been sponsoring him.

16, You were lost in the Nollywood movie industry, and you act like you were so big and relevant before he came into your life….

17, You guys lived together for 6 months according to him, you started staying together after birth never before then, when did all these happen , while you were breastfeeding or ?

18, How about the guy that was arrested in Switzerland because you told him lies and ruse him to blackmail your supposed hubby.

19, Lastly, My dear go back to work, and stop all these anomalies… They won't salvage the lost situation for you!
However, while reacting to the above story, Tonto Dikeh was of the opinion the story was sponsored by her ex-husband – she then spilled the beans saying he was never the revered Mr. Ex she had always talked about.

Share this post with your Friends on

RELATED POSTS FOR YOU
NOTE:- After making your comment, wait a bit for our moderators to get it approved before it can be displayed.