Nigerians react after President Muhammadu Buhari Son, Yusuf received NYSC certificate at home
Posted by Iheme Edmond On March 16, 2019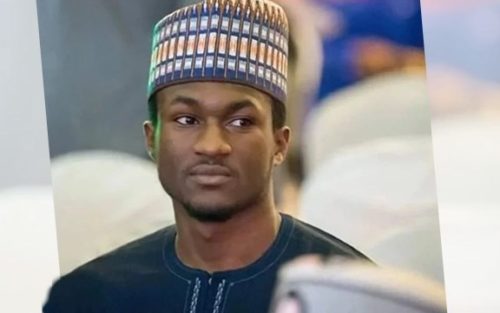 A picture of Yusuf being handed his own certificate at home by an NYSC official appeared on social media on Friday, attracting different reactions from Nigerians.
Many of them were not impressed by the home delivery service of the certificate to the President's son while some few others don't see anything wrong in that.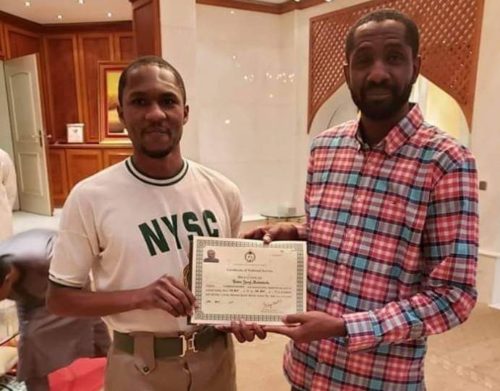 See reactions below;
@chosensomto – Yusuf Buhari matter, I maintain that most of the sycophants raging "Sai Buhari" , have more integrity than Buhari.
The same Yusuf that bought over 100 million Naira worth of motorbikes for himself and his friend, and hid it trom his thieving Father. #MrIntegrityMyFoot
@Ody_johnson – "Next Level" yen yen yen yen
"Integrity" yen yen yen yen
Here's 'Yusuf Buhari', your Mr integrity's son receiving his Discharge Certificate at home .
Also remember he graduated from the University of Surrey, Guildford …
Living within your means kill you people there😬😬
@sadeeqmusa_ – Yall saying Yusuf buhari did nt attend any camp yen yen yen better stfu. Where were u when davido was in camp today and abroad tomorrow? Is there another camp there we dnt knw abt?
@JohnFanimokun – The people that kept mute when Davido was breaking rules and laws set by the NYSC are the ones lamenting over Yusuf Buhari's POP picture.
I always trust our dear Wailers to always set different standards to nourish their partisan minds.
Hypocrites!!!
@UMARUBERNARD – All of you calling Out Yusuf Buhari una weldon oh!!! So you expect him to Pass tru all those stress alongside U!!! Biko forget integrity if U r in his shoes U won't even wear the Khaki but he did
@Onyema_Donald – I still doubt if Yusuf Buhari finished NYSC in less than one year. Social Media got photos of him serving around late 2018, how are we sure he wasn't serving before his photos appeared online?

Share this post with your Friends on

RELATED POSTS FOR YOU
NOTE:- After making your comment, wait a bit for our moderators to get it approved before it can be displayed.