"So Because I Sleep Naked Next To A Guy, S£x Must Happen?" – Young Lady
Posted by Iheme Edmond On June 21, 2018
The topic on rape and consent has been going on for a while and the debate has always been "Her No means NO" whether or not, she led you on to the point that you want to get down with her, or that you're already getting down and then she refuses to go any further.
Scenarios that could be possibly lead to rape have discussed a lot and a Twitter user has brought another angle and asks if it's a must that sex must happen because of that scene.
According to @hrp_endowed on Twitter, the fact that a lady sleeps Unclad next to a guy shouldn't prompt sex – she says that Self Control is what most men need in this age and time.
Read what she wrote…
So because I sleep Unclad next to a guy, sex must happen I beg to differ please.
Self control is just what most of you need, pathetic lot!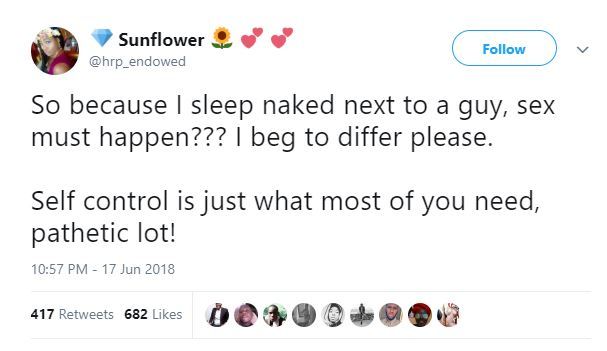 Share this post with your Friends on

RELATED POSTS FOR YOU
NOTE:- After making your comment, wait a bit for our moderators to get it approved before it can be displayed.