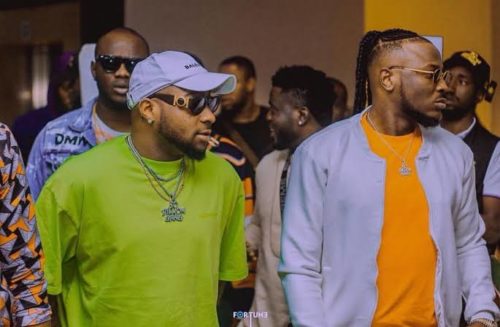 All seems not to be well in Davido Label imprint as the record label boss, David Adeleke more known as Davido is no longer comfortable with rising star, Tobechukwu Victor Okoh more known as Peruzzi Vibes over what Davido termed as disloyalty and non-comformation with the bro-code on the part of Peruzzi.
According to a source in the DMW crew who prefers to be anonymous, Perruzi allegedly entered Davido's bad book as a result of Peruzzi's knowledge of Chioma Avril Rowland (Davido's Girlfriend) sexual escapades and unfaithfulness which Peruzzi seems to have knowledge of but prefers not to tell his boss.
According to our source, Chioma has been unfaithful to Davido for a while now, dating men outside the shores of the country. This Peruzzi was aware of but choose to keep mum over it. Things got to a fix when Davido allegedly found out about Chioma's movement from an outside source with the source telling Davido to ask Peruzzi for more details.
Davido actually confronted Peruzzi but the half-hearted response from the latter irked Davido who was said to blow out his frustration about Peruzzi's betrayal.
The source further intimated us that Davido is keeping tabs on Chioma's movement for now before confronting her. Peruzzi Vibes has been an integral part of DMW as he writes 90% of Davido's songs with Assurance, Fia among other tracks he singularly wrote for his boss, Davido. Perruzi and Davido are said not to be on talking terms at the moment.
We will update you guys more as events unfold.