ASUU Strike: Osinbajo will not take over negotiation with lecturers – Presidency
Posted by Iheme Edmond On September 3, 2017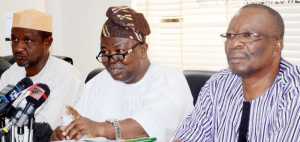 Two days after a minister announced that Vice President Yemi Osinbajo "has taken over some of the aspects of the negotiations and discussions" with striking university lecturers, the presidency has corrected the statement saying the minister was "misrepresented."

Speaking at the end of the Federal Executive Council meeting on Wednesday, Chris Ngige, the Minister of Labour and Employment, spoke on the decision reached the meeting regarding the strike.
"This is the first national strike that this government is facing and we want to discuss," he said.
"At Council today, the Vice President has taken over some of the aspects of the negotiations and discussions.

"So, we are continuing the meeting in his office and when we finish meeting, we will get back to ASUU for another round of meeting and we are hopeful that we will be able to go to an appreciable extent to solve some of the outstanding issues that are preventing them from going back to work," he said.

In a statement on Friday, however, Laolu Akande, the spokesperson to Mr Osinbajo said his principal will not take over the negotiation.
''Media reports seemed to have misrepresented what Labour & Employment Minister, Dr Chris Ngige meant when he spoke with reporters about the negotiations after the Federal Executive Council meeting on Wednesday."

Mr Akande explained that the "Vice President had a discussion after FEC with both the Labour Minister and Education Minister Malam Adamu Adamu around the issues, but has not taken over the negotiations as widely reported."
He said Mr Ngige and Mr Adamu "will continue to lead the FG- ASUU talks."
"The Federal Government continues to diligently pursue a prompt resolution of this dispute and is confident the matter would be resolved," he added.

The lecturers, ASUU, are on an indefinite national strike over issues ranging from the welfare of members and the unwillingness of the federal government to honour past agreements with the union.
Past meetings between the government and the lecturers have not led to a resolution of the crisis which has sent students in tertiary institutions back
Source: Premiumtimes

Share this post with your Friends on

RELATED POSTS FOR YOU
NOTE:- After making your comment, wait a bit for our moderators to get it approved before it can be displayed.