Certificate Of Return: Okorocha Is On His Own – APC Throws Imo State Governor Under The Bus
Posted by Iheme Edmond On March 27, 2019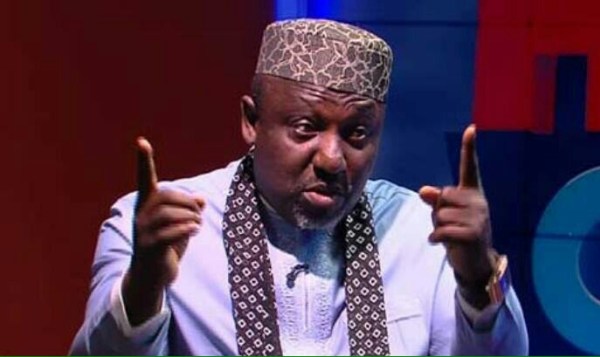 The national leadership of the All Progressives Congress (APC) on Wednesday broke its silence on the fate of the embattled Imo State Governor, Rochas Okorocha who was denied Certificate of Return by the Independent National Electoral Commission (INEC).
Rochas Okorocha who has since been placed on indefinite suspension by the Comrade Adams Oshiomhole-led National Working Committee won the senatorial election to represent Imo West senatorial district in the National Assembly but has been involved in the battle of wits to secure his Certificate of Return.
Findings revealed that the Commission's action may not be unconnected with the startling revelation of its Returning Officer for the Imo West senatorial election, Professor Innocent Ibeawuchi, who alleged that he was forced to declare Governor Rochas Okorocha the winner of the poll by the supporters of the All Progressives Congress candidate.
Speaking with newsmen yesterday at an interactive session, the party spokesman declared that having been suspended, Governor Okorocha ceased to be a member of the ruling party.
He said: "On the refusal of INEC to issue Certificate of Return to Governor of Imo state, Rochas Okorocha, who was announced the winner of the Imo West senatorial ticket, this party cannot take any action. Don't forget that he is on suspension and as far as this party is concerned, that situation remains because there is no way we can say that somebody is on suspension and still go ahead to intervene in his case.

"In any case, he has not even come up to inform the party of his problem because he has realised that he is on suspension. Therefore, until it is vacated, the party will now step in to intervene as a party member who has a problem to resolve."
Onilu further dismissed insinuation that the open declaration for candidates of African Action Congress in Rivers state by the Minister of Transportation, Rotimi Amaechi amount to anti-party activities. He noted that the APC was precluded from contesting elections in Rivers by pronouncements of the Court.
He said: "On whether what Rotimi Amaechi did in Rivers governorship election amounted to anti-party activities, I will emphatically say no because if you liken it to the situation in Imo or Ogun states, it will be wrong. In Rivers State, APC does not have any candidate and as a party, Rivers State is very important to us. The state has been in the hands of pillagers for too long.
"If we have the opportunity of working with a party willing to abide by our principles, then it is within our right to work with such a party to ensure we free the people of Rivers State from the locust. In this case, he has not abandoned a particular candidate that belongs to the APC for a candidate of another party. They are entirely different issues and in that case, there is no anti-party. Whatever Amaechi has done is completely normal and acceptable to this party as far as working with other party is concerned."

Share this post with your Friends on

RELATED POSTS FOR YOU
NOTE:- After making your comment, wait a bit for our moderators to get it approved before it can be displayed.