Check out this Kenyan lady's lists of how to keep a man
Posted by Iheme Edmond On May 7, 2018
A Kenyan lady, Monica Monni Moniree, has made a list of how to keep a man, and one of them includes having sex (doggy stlye) every morning.
Posting to Kenyan popular Facebook group, Kilimani and Nairobi Mums and Dads Uncensored, she wrote:
HOW TO KEEP A MAN'
1. Morning before you wake mpe dog style
2. Wake up, warm his water for showering (if u don't have shower)
3. As he takes his shower be preparing his breakfast, them him dress (In short prepare).
4. Take the breakfast together and see him out.
5. By the time he comes back evening make sure u have cleaned the house, cloths, etc
6. Welcome him with a glass of water when he comes back, prepare supper. Massage him!
7. Be a submissive wife, Never shout at him, Never argue him (Do I say not as I do)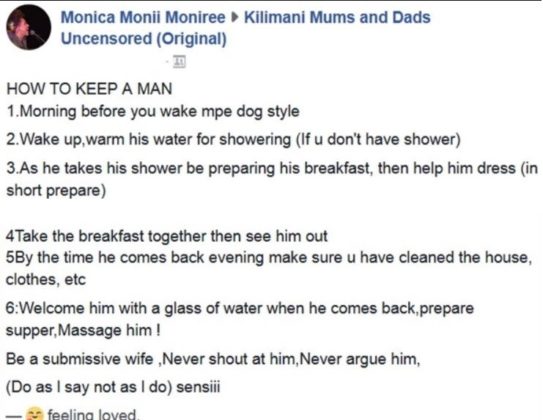 Share this post with your Friends on

RELATED POSTS FOR YOU
NOTE:- After making your comment, wait a bit for our moderators to get it approved before it can be displayed.