I sleep with only 5 men per day – 25 year old sex worker
Posted by Iheme Edmond On March 21, 2018
The police in Lagos have arrested the owner of Collabor Hotel, an inn on Ige Street in the Iyana Ipaja area of the state, for allegedly hosting underage sex workers in the facility.
The owner of the hotel, John Okon, was apprehended along with the hotel manager, Emmanuel Thomas.
Their alleged accomplice, Monica Ita, was said to be at large.
PUNCH Metro learnt that operatives of the Federal Special Anti-Robbery Squad, acting on intelligence, busted the hotel on Saturday, March 10, 2018.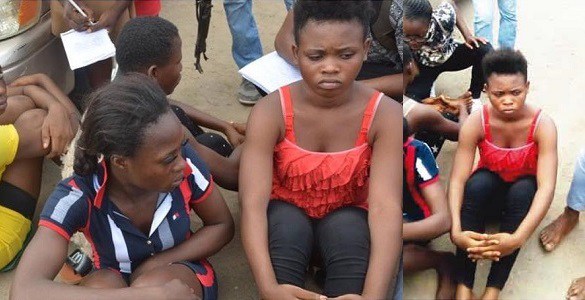 They also caught a 15-year-old primary school leaver allegedly engaging in prostitution.
The girl was said to have been brought from her village in the eastern part of the country by Ita a few weeks ago on the pretext that she (Ita) would get her a good job.
According to Punch , one Destiny Bassey, 19, and 18-year-old Bright Effiong, who was said to have been at the inn for three years, were also picked up by the operatives.
During a parade on Tuesday at the Lagos State Police Command headquarters in Ikeja, the hotel operators admitted to providing service for the sex workers, except the 15-year-old girl.
The hotel manager, Thomas, said:
"It is true that we provide rooms for sex workers where men visit them.
We collect N5,000 from them (the sex workers) every week.
We don't give them out to men; they bring their customers themselves."
The 15-year-old told PUNCH Metro that Ita persuaded her to come to Lagos when she (Ita) saw her playing around the village.
She said, "I finished from primary school two years ago, but I could not continue my study because my parents died.
Aunty Monica (Ita) came to the village and asked me to follow her to Abuja. She said she would get me a good job.
"Some days after I got to Lagos, she took me to the hotel to do prostitution. I had yet to get a room when the police came to pick us."
Bold and unabashed, Bassey, who gave her age as 25, said she slept with five men per day and collected N2,000 from each of her customers.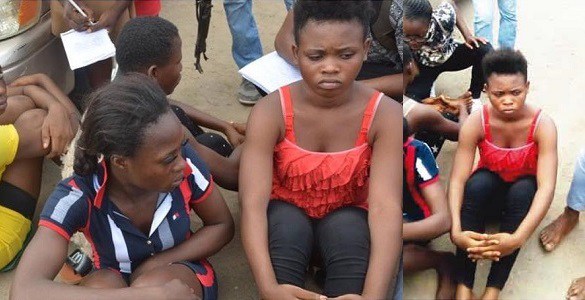 The Imo State indigene added that joblessness pushed her to the act.
She said, "Nobody forced me into prostitution. I have been hustling at the hotel for some years now.
I send part of the money I make to my relatives in the village for the upkeep of my child. I don't have parents and my husband is dead.
"I sleep with five men every day, so I make as much as N10,000. I pay the hotel N5,000 every week. I wanted to save enough money for my education."
Finally, Effiong, an indigene of Calabar, Cross River State, also said she went to bed with five men daily, adding that some of her customers paid N1,000.
"I came to the hotel last year and paid N3,000 per week for a room. I did only one round with each customer," she added.
The Lagos State Commissioner of Police, Edgal Imohimi, said the command swung into action following a tip-off that a syndicate was running a prostitution ring.
"A team of FSARS operatives stormed Collabor Hotel and arrested a 15-year-old girl.
She confessed that she was brought to the hotel some weeks ago by one Monica Ita.
The coordinators of the prostitution ring, Emmanuel Thomas and John Okon, were also arrested.
The case will be charged to court at the completion of investigation," the CP added.

Share this post with your Friends on

RELATED POSTS FOR YOU
NOTE:- After making your comment, wait a bit for our moderators to get it approved before it can be displayed.