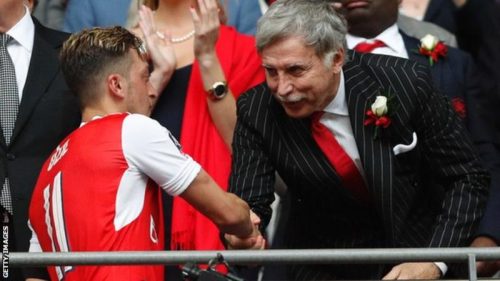 Stan Kroenke, Arsenal's majority shareholder, has made a £600m offer to buy the whole of the club in a deal that would value the Gunners at £1.8bn.
The American billionaire owns 67% of Arsenal through his company KSE, which says Alisher Usmanov has agreed to sell his 30% stake in the club.
A KSE statement says taking the club private will help to further Arsenal's "strategy and ambitions".
The buy-out announcement was made to the London Stock exchange on Tuesday.
The statement added: "KSE's ambitions for the club are to see it competing consistently to win the Premier League and the Champions League, as well as the major trophies in the women's senior game and at youth level.
"Under KSE's stewardship since 2011 the club has invested in major transfers, player contracts, analytics, senior non-playing football management employees, building the club's global brand and fan-base, and the stadium, training facilities and club offices.
"KSE expects the club to build on those investments and to continue to invest in London Colney and Hale End to ensure the club stays at the cutting edge of sporting high performance through player preparation, training, conditioning and youth development."