Comedian Basketmouth Reacts To World Richest Man, Jeff Bezos 'Expensive' Divorce
Posted by Iheme Edmond On April 6, 2019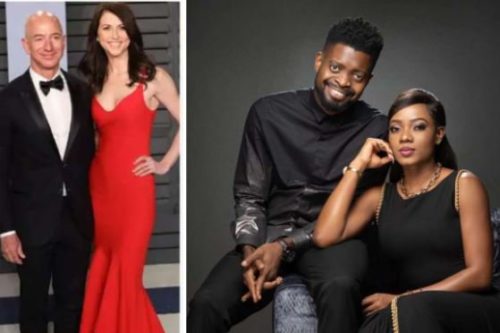 Comedian, Basketmouth, has reacted to Jeff Bezos, divorce settlement with MacKenzie, which leaves her a 4% stake in Amazon.
Basketmouth humorously revealed that he cannot give his wife, Elsie, who is a mother of his two kids, $36 billion in a divorce agreement.
He was responding to the divorce settlement of billionaire, Jeff Bezos, and his ex-wife, MacKenzie Bezos.
Jeff, 55, will keep 75 percent of their Amazon stocks, leaving MacKenzie, 48, with just a quarter which represents a four percent stake in the company worth around $32billion at current value.
According to Daily Mail, Jeff's 12 percent stake is now worth around $100billion which allows him to retain his title as the richest man in the world because he still has $4billion more than Bill Gates. He will also take voting control of her remaining quarter and has been given her stock in The Washington Post and Blue Origin.
Reacting to the news on Instagram, Basketmouth wrote;
"$36Billion!! It's already written "Till death do us part" I will never leave that marriage, for what?? Even if she's cheating on me, I'm sure I will understand. Abegi….

"Worse comes to worse I start sleeping in the guest room. N36Billion?? Kuku kill me. We die there!!!!!"

Share this post with your Friends on

RELATED POSTS FOR YOU
NOTE:- After making your comment, wait a bit for our moderators to get it approved before it can be displayed.