My Father's Continous Demand For Sex Drove Me Out Of Nigeria – Libya Returnee
Posted by Iheme Edmond On December 10, 2017
One of the recent Libya returnees, Miss Loveth Ekumabo, has said her father's incestuous behavior chased her out of Nigeria.
The 25-year-old lady said,
she fled for safety from her father, and also in search of greener pasture.
Ekumabo also recounted how she became a victim of serial rape by an Arab man as she sought passage to Europe. A move that turned out futile.
Ekumabo, from Uhunwode local government, is one of the hundreds of Edo indigenes that have been repatriated from Libya.
They are currently in the custody of the state government undergoing rehabilitation for effective integration into the society.
The returnee, who spent seven months in the North African country, spoke with reporters at the rehabilitation camp.
She said,
"After I exposed what my father wanted to do to me. the fight broke out at home and I had to run away for my safety.
"I went to stay with my friend who introduced me to the man that helped people to Europe.
"I did not have any money; so, I was made to swear an oath in a shrine in Benin that I will pay back every kobo when I get to Europe.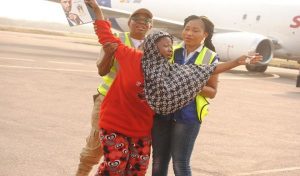 "We agreed that I will pay back N200,000. I left Benin for Kano in April 2017. From Kano, we were transported in a Hilux truck through the desert, with no food or water, to Agadez in the Niger Republic and from there to Tripoli in Libya.
"If you want to cross from Agadez to Tripoli without money. You either get raped as a girl or get beaten up as a boy. The agency can also sell you out as a slave to get their money before you are allowed to cross to Tripoli with your new owner.
"I saw dead people; boys being killed; girls raped to death, and people sold as slaves.
"The worst part is that Nigerians are among those Arabs who treat fellow Nigerians badly.
"It was while I was about to cross to Tripoli that four Arab men raped me continuously without stop. After which I was allowed to cross to Tripoli where I discovered that I was pregnant.
"The church where Nigerians worship in Tripoli advised me to go back to Nigeria since I cannot do any other work here now that I am pregnant.
"When I called my family that I was coming back, my mother asked them to tell me to stay back and try my best to cross to Europe.
But I said to myself
that since she was not the one who sent me to Libya. She had no right to tell me to cross to Europe.

Share this post with your Friends on

RELATED POSTS FOR YOU
NOTE:- After making your comment, wait a bit for our moderators to get it approved before it can be displayed.