"I never dated my wife before marriage" – Comedian Akpororo reveals
Posted by Iheme Edmond On September 29, 2018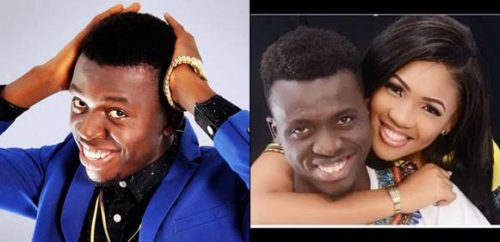 Comedian Akpororo revealed to Saturday beats that he never dated my wife before before marrying her, rather they started dating after marriage .
"I did not date my wife. We are in the same industry and she was with Explicit Dance Group. We had met on some occasions and greeted each other. We never had any period to date; I would say we started dating after we got married. Although I am a comedian, when I approached her, she took my words seriously because whenever I am serious you would easily know.
"I was already popular as of the time I got married to my wife. Some people say that once you get married, your tempo or output in the industry would drop but I do not believe that because whatever you believe would happen to your career is what would happen to it. I changed the belief that you need to date someone for a long period before you get married," he said.
And on why comedians seems to always marry beautiful women, he said, "We work hard and we see beautiful ladies every day so it is only natural to marry a beautiful woman. It is just a coincidence that comedians have beautiful wives, but the truth is that we all love pretty women. When we talk about beauty, it does not have to do with the face alone but character, being hard-working, and a prayer warrior. We just love beautiful women."

Share this post with your Friends on

RELATED POSTS FOR YOU
NOTE:- After making your comment, wait a bit for our moderators to get it approved before it can be displayed.