[Download Music] Femi Oni – Godly Heritage
Posted by Iheme Edmond On February 22, 2021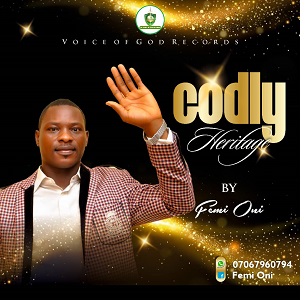 Gospel singer Femi Oni is out with another wonderful song Titled "Godly Heritage".
This song refers to something that comes or belongs to an individual by reason of birth or that's received as an inheritance. It could be a physical possession and can also be more than tangible object e.g a family tradition or particular skill. Of greater value as child of God than any inherited possession, our heritage in the Apostolic faith is more than a piece of property. It's something that will endure longer than any physical possession.
Our Heritage is the fact that, we're to understand the meaning of true salvation, the power of God can take sin out of a person's heart and make him or her a new creature in Christ Jesus. The song is centered on the Psalm 16:6. Therefore, our heritage is the Lord.
Stream and Download Below:-
Femi Oni
Godly Heritage
<iframe src='https://waparz.com?action=embed_zoomsounds&type=player&margs=eyJzb3VyY2UiOiJodHRwOlwvXC93YXBhcnouY29tXC93cC1jb250ZW50XC91cGxvYWRzXC8yMDIxXC8wMlwvRmVtaV9PbmlfLV9Hb2RseV9IZXJpdGFnZV9XYXBhcnouY29tLm1wMyIsImFydGlzdG5hbWUiOiJGZW1pIE9uaSIsInNvbmduYW1lIjoiR29kbHkgSGVyaXRhZ2UiLCJvcGVuX2luX3VsdGlib3giOiJvZmYiLCJwbGF5X2luX2Zvb3Rlcl9wbGF5ZXIiOiJvZmYiLCJlbmFibGVfZG93bmxvYWRfYnV0dG9uIjoib2ZmIiwiZG93bmxvYWRfY3VzdG9tX2xpbmtfZW5hYmxlIjoib2ZmIn0%3D' style='overflow:hidden; transition: height 0.3s ease-out;' width='100%' height='152' scrolling='no' frameborder='0'></iframe>
DOWNLOAD MUSIC

Share this post with your Friends on

NOTE:- After making your comment, wait a bit for our moderators to get it approved before it can be displayed.